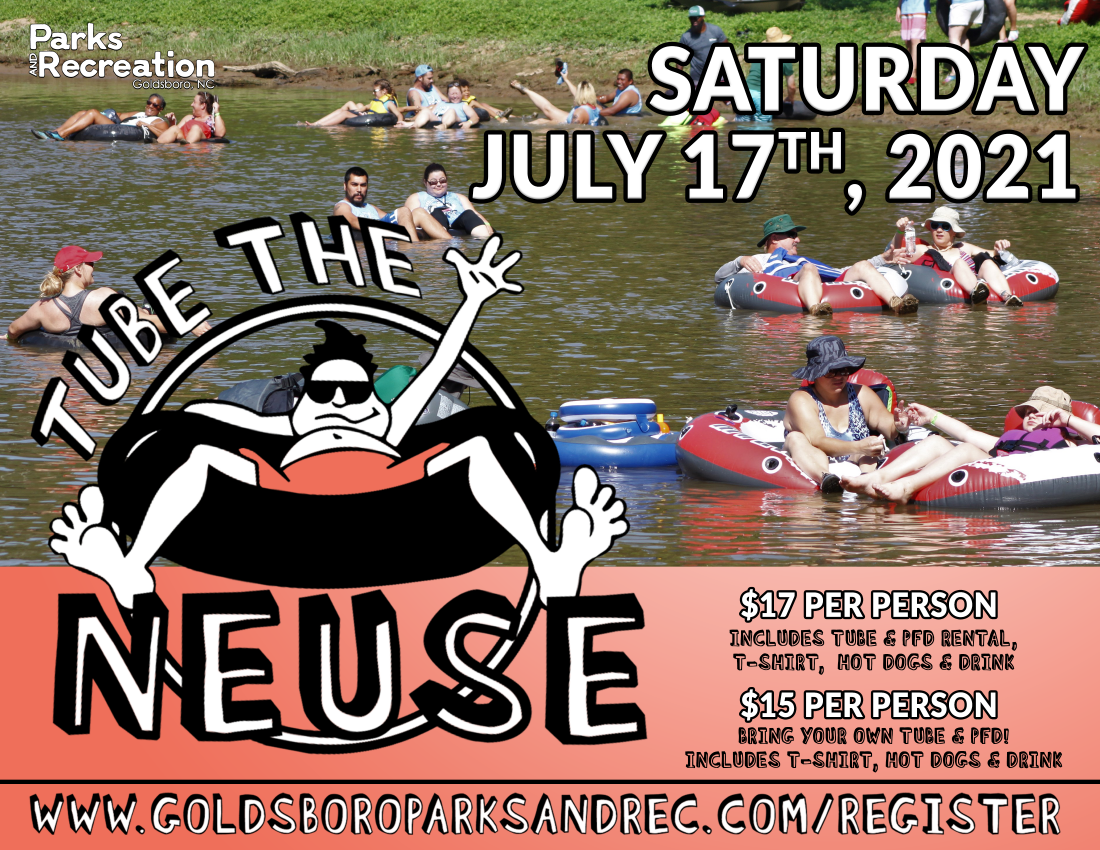 Join Goldsboro Parks and Recreation for the 5th Annual Tube the Neuse event on Saturday, July 17th, 2021! Inner tubes and life jackets will be provided or you may bring your own – all participants will be required to wear life jackets. This float will last around 2 to 3 hours depending on the river current. There are a limited number of floats available so don't wait until the last minute to register!
Registration: Opens June 8th, 2021 – Closes July 9th, 2021
Date of Event: July 17th, 2021
Time: Check-in/Registration will begin at 9 am (at address below).
Fee: $17 Per Person (Tube Rental) / $15 Per Person (Bring Your Own Tube & PFD)
Location: Neuse River Boat Ramp (River Bar) 2091 US 117 South, Goldsboro, NC 27530
Ages: All ages are welcome, but it is highly recommended that all participants be able to swim!
Route: The exact route will be determined closer to the event date, and will depend on river conditions at the time but will be in Wayne County. Be sure to include a working email address when registering and DO NOT opt out of email notifications as this is how we will communicate with you ahead of the event.
What this includes:
Each RENTAL registration includes tube & life jacket rental, transportation to the launch site, t-shirt, hot dog, and beverages. (You may bring your own life jacket, if you wish!)
Each BYOB registration includes transportation to the launch site, t-shirt, hot dog, and beverages. All BYOB registrations must bring your own life jacket.
The address listed above is where you will park & register (Plenty of parking available at this boat ramp). From here, you will be bused up stream to the launch site where your float will begin. Parks and Rec staff will serve hot dogs and beverages at take out.
**Must register by 10 am on June 25th to get a t-shirt. Participants registering after this date are not guaranteed an event t-shirt.**
Registration will close on July 9th at 1 pm.
***This information is subject to change. All participants will receive a detailed email the week of the event with the most up-to-date information. Be sure to include a working email address and NOT opt out of email notifications when making an account on this website, or you will not receive this information!***